Noteworthy Motorcycle Information
Welcome to my vision of motorcycle links. This page encompasses a multitude of subjects from vintage bikes to modern, parts, to parting out. What I have put together is a list of links that relate to fixing your bike, or putting together a chopper. Hope this helps, and please feel free to e-mail me any links you think should be found here. Thanks.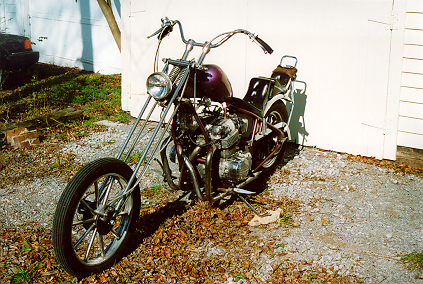 That's a pic of my chop as it started. It was a 1973 Honda CB750 in an Amen rigid frame. The engine turned over, and compression was good but the carbs were nasty as all hell, and the top end had some nice gunk in it. Had the top end done (cleaned out valves, cylinders, replaced piston rings) by Chris O'Brien of Affordable Motorcycles in Astoria. He hadn't had much experience working on Jap bikes but managed pretty damn good once he had a manual in hand. If you're looking for someone you can trust to do some good work at a very reasonable call Chris at 718-204-1462.
Once the top end and carbs were done, and the front end was swapped out for a 1972 Harley FXR front end, the bike ran sweet as can be. The original girder was rusted, the bushings were shot, and the springs were long past springing. I added K&N pod filters, 124 main jets, and now I get about 3.4 seconds for a 0-60 run. Pretty damn impressive if ya ask me; especially considering the bike is 2 years older than I am. Next step, this winter Im moving it over to a swingarm chopper frame. The potholes and shitty highways in New York just dont make for a good ride with 2.5 inches of ground clearance and no suspension.
FastCounter by bCentral