Chop It, Rake It, Stretch It
You can't always find that frame to fit the engine and tranny you picked up real cheap. What I prefer to do is find myself a stocker, pull everything apart, rip it all out, ship the frame out and have the downtubes stretched, the front end raked, and turn it into a single downtube. The places below are from a time lost honored art, the art of the chop.
Saxon Motorcycles.: These guys are damn fine frame choppers. They've got some of the best prices around (at least compared to the US). They also specialize drag bikes, and cafe racers take a look at their site for some sweet Jap chops.
9508 Horton Rd S.W.
Calgary, Alberta
T2H1L7
(403) 640-0107
http://members.home.net/saxonmotorcycles/
Mike's Choppers: Here's a man with style, knows what a chopper is all about. Check out this pictures, then do yourself a favor and check out his website. He's got bikes well worth the money. Wish I had as much talent as this man: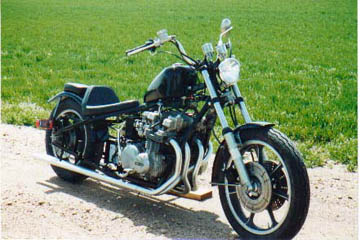 That pic above is one he's got for sale. His site is at http://www.angelfire.com/ne/mikeschoppers/index.html.